Online survival has become quite difficult today. With millions of online markets already fighting for their existence, it becomes important to find our ground. Once you start working on your niche website, you need to focus on many things. So while fighting your online existence is there a way for increasing website conversion rate.
You might be thinking , What is website conversion rate? As I mentioned in the article on selecting your niche, the visitors should be converted into leads. And if you are selling a product these leads should be converted into customers. It is the inbound marketing way. So to increase website conversion rate, you need to follow the inbound marketing methodology.
Now what is this inbound marketing? Inbound marketing follows the basic flow of attract > convert > close > delight. The inbound marketing uses blogs, podcast, SEO, social media marketing etc in order to attract visitors and convert them into lead. The inbound marketing would definitely help you in increasing your blog or website conversion rate.
So rather then explaining how it's done, Let's understand how to do it. Since you already have your blog post, contents to attract visitors. We will be focusing on the conversion part, on how to convert those visitors into leads, and make them your permanent visitors.
For the conversion of these visitors into leads we need to get the visitors email id. The visitor should be delighted with the visit to your blog. And should willingly provide you with emails. This getting of the visitor's email is called increase in website conversion rate.
These tools that I have mentioned below will help you in increasing your website conversion rate. These tools are for getting those emails when the time is right to ask your visitors for their email. I will explain the use of each and every tool and how to use the tool it.
Top 5 Best tools For Increasing Website Conversion Rate.
Getresponse

If you are not using a marketing automation tool then you are losing on a big chunk of your followers. The marketing automation tool helps you in providing your visitors with a smooth and pleasing journey in your website. Its all about pleasing the court(in this case your visitors). If they had a wonderful experience and get what they want they are more likely to remember you.
For that you need to to have good content. And the marketing automation tool will do the rest. My favourite automation tool is Getresponse. They are simply amazing with the ton of features available at a cheaper rate. There are many other email automation tool like convertkit, aweber which are also worth considering, but I like getresponse the most.
Getresponse help you to segment the users as per the need and create a different buyer journey or them. This helps in providing better experience to the visitors and increasing the conversion rate on your website.
Many people ask how the conversion rate would increase by creating different automation? The answer is simple, if you show the visitor what they want rather than what you want to show. He is more probable of getting converted as a lead from visitor.
The Getresponse package also has webinars included in it. So if you thinking of hosting webinars, then getresponse is a great deal. Getresponse is the best tool for increasing your website conversion and getting more interactivity.

Push notification is taking over as one of the best tool for website engagement. There are many website today which ask you permission of the website to provide you with notification.
The push notification makes it easy for the websites to increase the website traffic. Once the visitor provides you access you can send him/her notification of updates on your blog or website.
Its like trading the visitors email with something worthy and useful to them. If you see here(geeksla) we are also using notification and providing free seo checklist to our users.
Optinmonster / Privy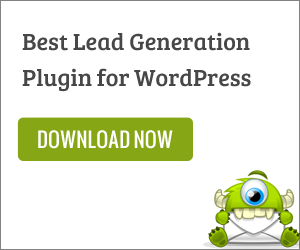 Instapage is a landing page tool. If you are looking for much better customization on the landing pages then instapage is what you should be using.
Conclusion
These are some of the tools, that help you in getting better website conversion rate. There are many other tools that might help in getting better conversion rate, but these are my bet.
But for converting visitors into leads you need to have a better content on your website
These were some of the best tools for increasing website conversion rate. What do you think about these tools? Do you have any other better tool not present in the list? Tell us in the comment section below.