Recently Amazon launched its new product known as Amazon Prime. Well speaking technically it's their new services which started in India recently. This service was already available for the American Amazon users for quite some time. So what is Amazon Prime? Who is this Amazon Prime for? Should you subscribe to Amazon Prime?
Is Amazon Prime a marketing strategy? Well, I did quite a research and tried to get an answer to all these questions. As we all know today Amazon is the largest online shopping site in India. Well, they deserve that, they have excellent service and quite good at delivery and product quality stuff.
Ya, but there might be some exceptions (those who had a bad experience with them). But I had a pretty good experience with them. And their product delivery and even packaging are awesome. So they just added a cherry to the cake by introducing the new Prime service.
So what is Amazon Prime?
Amazon Prime is a subscription-based service, in which the subscribers will get some exclusive service from Amazon. There are many services that will be provided for the prime subscribers, I will discuss the services in a while. So do we have pay for the subscription? Yes, you need to pay Rs 499/- for a year and you will be subscribed to Amazon Prime.
The Rs 499 is their introductory price and as per their website, the original price will be around Rs 999/- per year. Currently, there is a 60 day free trial for the Amazon Prime services. So for 60 days, you can enjoy your exclusive prime subscription. I would suggest go and subscribe for the trial period, as you don't need to pay anything and not even provide your credit card details.
So what are the benefits of Amazon Prime?
So you were waiting for this. Amazon currently is providing only two services with Amazon Prime. The first one is free one day, two day or standard delivery and the second is exclusive deals early access. But there is another service which will be coming soon to the subscriber which is prime videos. Prime videos are the place where you can get unlimited access to all the movies and US TV content here in India. Yes you will get that all for Rs 499/- (for now).
So you are an online shopping addict and do a lot of shopping at Amazon, then you should definitely go for prime. You will not be charged a single penny for delivery. That means even if you buy a 50 bucks product and if you are a prime subscriber then you don't need to pay for delivery, it would be free. And you will get immediate one day or two day delivery of that product. This is a good scheme, as we know we need to pay around Rs 100 for anything we buy under Rs 499.
But you need to see for the Amazon Prime eligible product and they look like the image given below.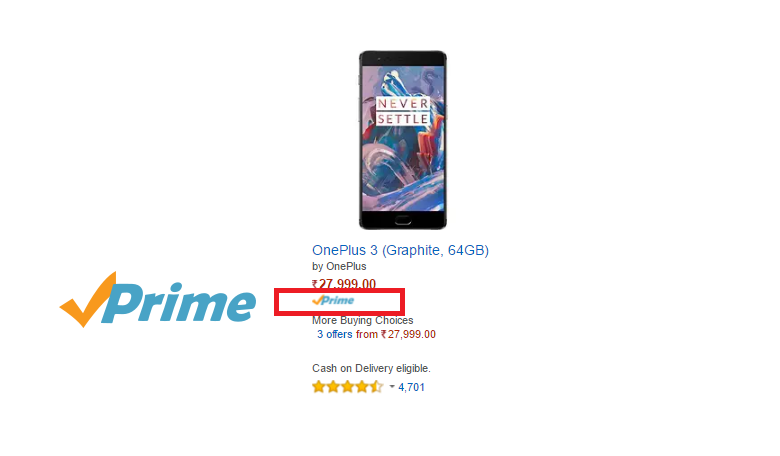 As a Prime member, you will get early access to top Lightning Deals every day, 30 minutes before other customers. You only need to choose the Prime Early Access filter when you search deals, and you will be the first to view the best deals every day. We always have a complaint of not able to access any lightning deal on the shopping site and until we get the thing into the cart the deal gets finished.
They even mentioned that there will be Prime videos available to the subscriber, but not for now. So you will have amazing library of movies and various US based web series. This is pretty awesome.
What is Amazon Prime cost in America?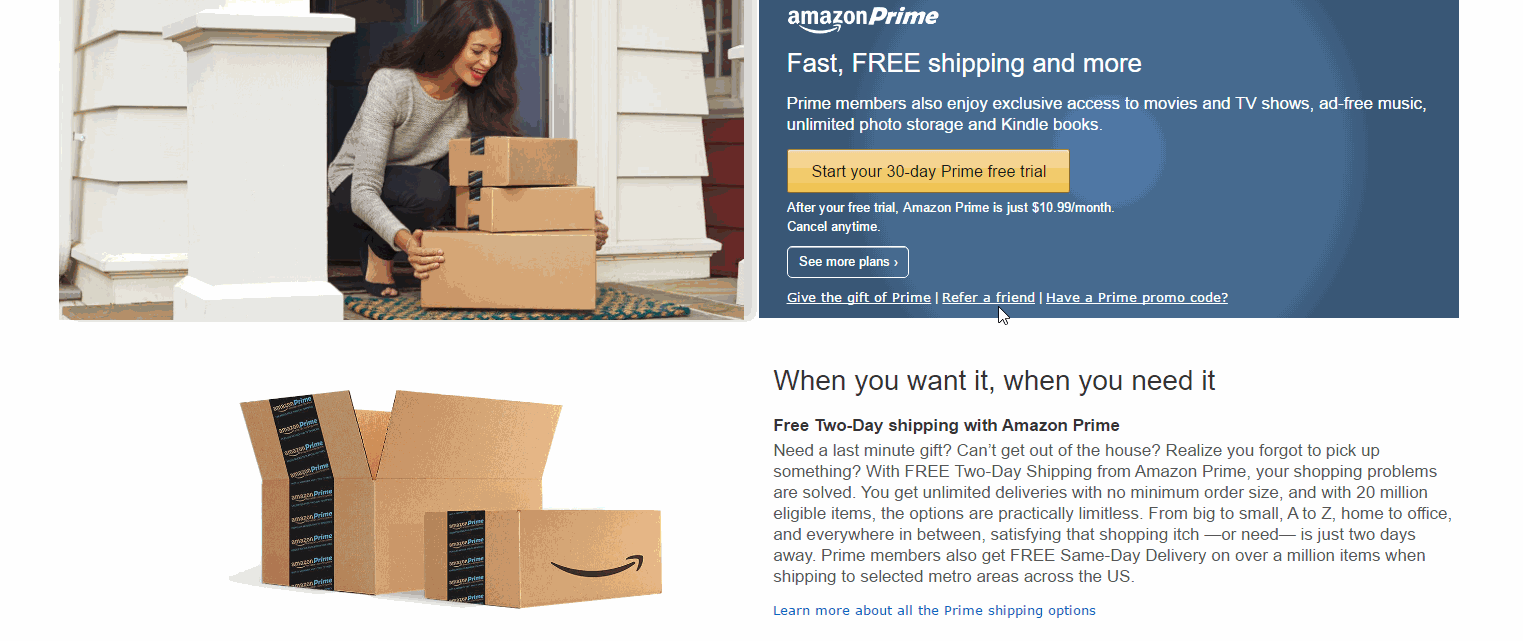 I was not satisfied with just what they were offering at Rs 499/-. So I went to the Aamzon.com (America based) website to see what prime services they have at America. So as you can see above they have all the features we have, but they have some extra features also.
They have instant access to video streaming, unlimited music streaming, free unlimited photo storage, and free Kindle eBooks. Well, the American people get a lot of features. But wait, the price of Prime there is 10$ per month, yes that is Rs 670 per month which goes for around Rs 8000 per year. Whereas, we in India are charged only Rs 499/- per year. So we are still at profit. Try Amazon prime now, it's free for 60 days.
My final say
Well seeing all this plus point it is good for people who shop for more than 5000 bucks per month then this will be an amazing deal for you. You should go for it without giving a second thought. And if you are a not so frequent buyer from Amazon then this deal is not for you. But still Rs 499/- is still reasonable and can say you a lot of money while shopping from Amazon.
So that's it, folks. That's my view of Amazon Prime. What do you think about the Amazon prime? Do you think it is worth trying? Share your thoughts and views in the comment section below.