It gives me goosebumps; when I hear entrepreneurial stories. These stories are really inspiring and motivates me to do more. But today as I look at the current scenario, it is not difficult for us to get things done. I mean, today's entrepreneurs can work more efficiently. Today it is about hard work with some smartwork. There are different tools for startups and online business to make life easier. These software for startups are based on providing more productivity and help to get things done.
You can also see them as office productivity tools. We created a startup resources list, basically a set of tools for entrepreneurs. These startup tools can be used to increase your website conversion, managing your startup, doing competitor research or might just make your life easier as an entrepreneur.
We made this list to connect you to these awesome tools for startup, which we found worth sharing. So here are 15 most essential tools for startups and online business
15 Essential tools for startups and online business
Startup Stash:
It might be a strange thing, but while looking for tools for startups this website struck me. this is the ultimate resources for startup website. We always want to deliver our users with more than promised.
If you are not satisfied with our list of essential tools for startup and online business then visit startup stash. Startup stash is the ultimate destination for finding the perfect tool for your startup. It is basically a curated directory of tools and resources to help you build your startup and promote your startup.
There are ton of resource available in the website, and all are tools are placed according to their category. So it becomes quite easy to find tools for startups in a particular section for eg. productivity, marketing etc.
Canva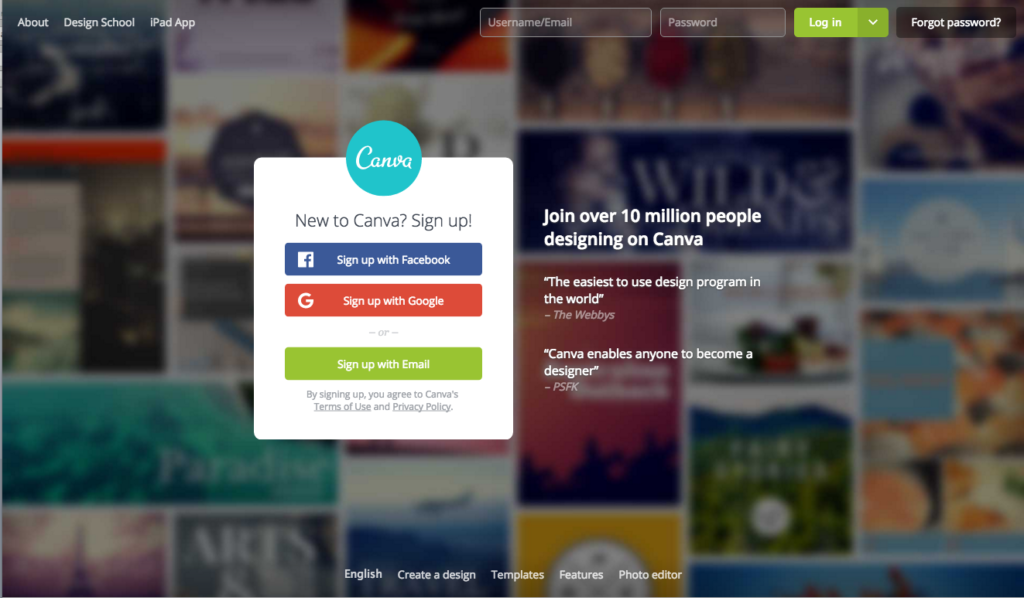 This is the best creative tool for startup according to me. All my post thumbnail and images that we upload on the internet; for geeksla are created on Canva.
I have already mentioned canva on top 5 online photo editing tools. You can see some some of its features there. But canva makes life easier with all the creative stuff, like creating instagram image, twitter upload, facebook ad images etc.
Canva is the best possible free alternative to adobe Photoshop.
Some other alternative to Adobe photoshop which are worth mentioning are picmonkey and Fotor. They Are similar to canva and worth giving a shot.
Buzzsumo
Its always suggested to be updated with what's happening in your field of interest. Buzzsumo is another tool which helps startups and small business to monitor their field of interest and provide them with the required results.
You can say that buzzsumo is an alternative to google trends. But in some cases much better. Since they analyse your browser history and provide results with similar interest present all over social media. It somewhat tries to fetch the content with most share on the social media.
It is must use tool for every startup. The free version of the tool is also available but has limited access. It can be said as an resource area for a startup to get useful content.
Trello
Trello is a collaboration tool to make it easier for startups and any business to manage their project. It becomes easier to check on the progress of your project and work more effectively on the project.
Trello helps the team focus on the product building rather than updating everyone with the status of the project. It brings everyone in the team on the same boat.
Some of the best alternative to trello is slack. They both are quite different in their functioning but are worth using for more productivity and efficient working.
Getresponse
Getresponse is my favourite marketing automation tool. Why favourite? Because they have email marketing, landing page, webinars, email creators, responsive design, automation etc.
Getresponse is the all in one tool for your inbound marketing strategy. Creating call-to-action and then creating landing pages and converting visitors into leads. Personally I am a great fan of getresponse.
I would say, getresponse is a must have tool for startup and online business. If you want to grow your email list and keep your email list engaged, then this is the option you should go for.
Some other email automation available: aweber, convertkit infusionsoft.
**Instapage**Instapage is a landing page tool which is used to create landing pages and A/B testing of the same. instapage is a great landing page tool which comes in handy for startup and online businesses.
If you are saying, why do I need a landing page for my startup site? Then you really need to get educated on inbound marketing. Instapage is a best landing page conversion tool for inbound marketing.
These landing pages are easy to build on and can be easily customised. The landing pages are 100% responsive and you require no coding skills. If you only want a landing page platform then instapage is what you should be using.
Semrush
Research is an important aspect, when you have many competitors around. Semrush is a tool which helps you to do keyword research and look what your competitors are ranking for.
It makes it easy to understand your competitors SEO strategy and also look at some of the analytics about your competitor. Which might possibly help you to do better for your own product.
I personally use semrush for doing keyword research and before writing any article I first look around, if their are any other similar articles. And if they yes, then what keyword are they ranking for and were they are getting the backlinks from.
Some other keyword research I use are longtailpro and kwfinder
PocketEvernote
Pocket makes it easier for you to get all the content you love or are interested, in one place. It is like a RSS reader, rather an advanced version. You can get all your articles, videos saved directly into the pocket and can read when latter when you want.
We all already mentioned Evernote in one the top 5 Note taking apps available. If you are a startup, you can get projects and all the your plans sorted in one place with Evernote.
Evernote makes it easier for startup and online business to manage notes, receipts and make things easy to share with your co-worker. It is also possible to integrate pocket with evernote and use them from one place.
Optinmonster
These days every website or blog are using opt-ins to get emails and grow their email list. As you know how important it is to have an email list. Optinmonster is the best option available in the market.
These are highly effective action targeted opt-ins which can be customized as per requirement. Optinmonster makes it easy for the user to convert visitors into possible leads by providing them with offers when they try to leave your page.
There are many features which include A/B testing, user analytics, multi-form type, page level targeting etc. Optinmonster also include integration with many of the email automation tools like getresponse and aweber to name the few. Optinmonster is the best opt-in available for any startup and online business.
Postplanner
Postplanner is a social media management tool which helps you to manage your social media post from one place. I would not say a must have tool because you may argue that managing social media can be done without the tool as well.
But it is only to make your life easier as an entrepreneur. You might have already have heard about Buffer and Hootsuite, which are similar tools for managing all social media profiles in one place.
It is a good investment to make since it will save a lot of your precious time which you can use to grow your startup rather than posting on social media.
Gleam
You might have heard about this tool already. They are the most famous platform for hosting effective giveaways. You can grow your social media followers and your email list using giveaway.
You can start your first giveaway right now for free. They have a basic plan available for free. Gleam is the most trusted platform for hosting giveaways.
Makerbook
Makerbook is a hand-picked directory of the best free resources for creatives. It fulfills all your creative needs in one place, that too for free.
If you need an free stock images or an royalty free video for commercial use then Makerbook has an entire directory of the same. Makerbook is the one stop solution for your startups creative need.
Piktochart
If you are spending thousands of dollars on creating visually impressive infographics or presentation then rather use Piktochart. It is easy and free to use for basic service.
It cost something around $9 per month for paid version. This is the best tool for creating infographics in general. Infographics can also be created easily in canva and foor.
LiveChat
You probably are using this if you are a product startup or providing services. Live Chat is a must have tool for ll startup to make it easier for your customers to chat with you anytime in a day.
It makes it easier for your customers to get more info about your product and services. Eventually builds more trust on the brand and make visitors to convert into leads.
It is not for everybody but only if you have a product to sell or area service provider startup.
Hubstaff
If you want your startup employees to more more efficiently and productively then this is the tool for you. Hubstaff makes it easier for you to keep a check on your employees work, like how long are they working, what type of work are they doing at the office place.
It also easier to manage your startup employees salary from one place. It is a time and work tracking tool for startup and small business.
Also easy to integrate Hubstaff with Paypal and freshbooks so that you can easy do payments of your clients. It is not a necessary tool but a productivity tool for efficient working of the startup or business.
This was our quick guide to essential tools for startups and online business, I thought are worth sharing. There are alternative to all the tools mentioned, but I found the one mentioned above to be trustworthy. These tools for entrepreneur can make your startups task easier.
There are many tool which we are not able to mention. If you know about any other startup tool or resources worth sharing, then tell us in the comments below.